Like new: Primary two-shaft tire shredder ECO Green Giant 120 for sale in Switzerland
The seller a Swiss leading circular economy technology player. The company has developed patented technologies to provide an innovative approach to the global issue of managing and upcycling end-of-life tires.
It has developed a strong R&D and engineering center in Switzerland with a focus on its core proprietary technologies. The company has recently shifted away from its plan to run full fledge production facilities on its own in Switzerland; hence the decision to sell a barely used, Made in the USA, two shaft shredder purchased from ECO Green Equipment, LLC in 2021.
Equipment description
ECO Green's Green Giant 120 two-shaft shredder is designed with an aggressive low RPM, high torque shredding technology. Each shaft is driven by its own electric motor, giving it plenty of power to drive through tires and steel beads. However, debeading of large tires is strongly recommended.
ECO Green uses a new patent-pending knife design features up to 12 cutting edges for production cost savings. All of its blades are made from hardened tool steel. The shredder can process car, truck, super singles, semi OTR, and cut OTR pieces.
Main specifications
| | |
| --- | --- |
| Manufacturer | ECO Green Equipment Ltd. |
| Model | Giant 120 – two shaft shredder (see detailed description below) |
| Quantity | 1 |
| Condition | Used, like new; under 600 hours of operation |
| Year of manufacture | 2020/2021 |
| Installation | Delivery and installation in Switzerland, July 2021 |
| Warranty | None |
| Capacity | Whole ELTs up to 150 mm, 12 TPH specified for the seller's use (can produce chips down to 50mm with the additional screening and recirculating equipment as per the manufacturers indications) |
| Installed power | 150 KW (263KW total) |
| Location | Switzerland |
| Delivery time | Immediately available |
| Terms | Factory pick up. 30% on purchase confirmation, balance upon shipment |
| Price | Upon request |
Equipment details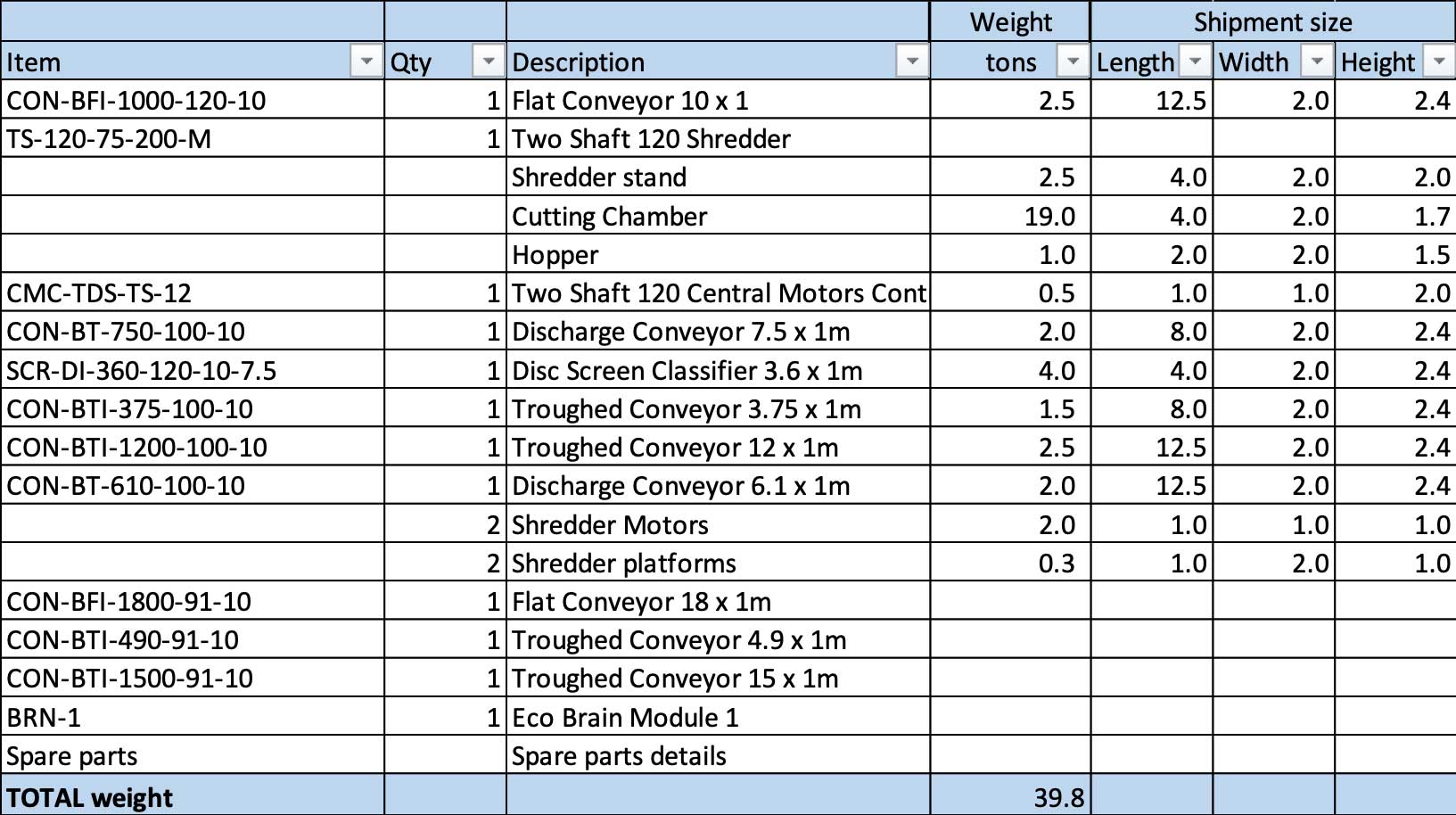 Contact Seller
Please fill out form below to get in touch with the owner of the listed equipment. Make sure to submit your phone number to enable the seller get in touch with you directly.