BlackCycle – potential "game-changer" for end-of-life tires and recycled tire rubber
According to expert opinion in the tire recycling industry, BlackCycle – the research project coordinated by Michelin – can revolutionize end-of-life tire recycling worldwide. This opinion was voiced by experts during a meeting of the Bureau of International Recycling (BIR) at its Tires & Rubber Committee on October 15, 2020.
There was tangible excitement at the BIR Tyres & Rubber Committee webinar on October 15 following a guest presentation on the recycling of end-of-life tires (ELTs) into secondary raw materials for tires and other product applications.
The Committee's Chairman Max Craipeau of China-based Greencore Resources Ltd said the BlackCycle research project coordinated by major producer Michelin had the potential to "revolutionize" ELT recycling at a time when the key crumb rubber market was under severe threat. If successful, it could mean that, in five to six years from now, around half of Europe's ELTs would be incorporated as secondary raw materials into new tires, he added.
According to Michelin, the €16-million project currently involves five research and technology organizations, seven industrial partners and an innovation cluster. Moreover, it spans activities such as tire collection, shredding and granulation, tire pyrolysis, rectification of tire pyrolysis oil into valuable materials, production of recovered carbon black.
Michaël Cogne of Michelin pinpointed that the aim of BlackCycle project is to address recovered carbon black and pyrolytic oil as well as "to find the best way to valorize everything to a good level of performance."
Describing the BlackCycle project, BIR writes: "Chemical competencies would be used to refine oils to create a desirable feedstock for the manufacture of carbon black, he added."
"With the full value chain, you have a good chance to valorize all the outputs for use in "high-value applications", added Michaël Cogne describing the research which aims to revolutionize tire recycling and the use of recycled tire rubber and tire-derived materials.
The project is expected to be beneficial for the industry players involved in end-of-life tire management and recycling. Max Craipeau, the committee chairman, said that the key aspect of the initiative is that end-of-life tire collectors, recyclers and tire pyrolysis operators would "still have a major role to play in the industry as providers of added-value feedstock."
According to BIR's chairman, this is expected to apply even to small and medium-sized tire recyclers, allowing such operators to continue exploiting their present equipment.
Another Tires & Rubber Committee panelist Martin von Wolfersdorff – recovered carbon black expert and head of Wolfersdorff Consulting in Berlin – praised the BlackCycle recycling objectives as exceeding Michelin's initial Vision 2048 goals. He estimated a recovered carbon black production of around 400,000 tons per annum and a sustainable carbon black production of some 80,000 tons per annum by 2030 if every second European tire were recycled in the BlackCycle system.
Martin von Wolfersdorff and Robert Weibold – a tire recycling and pyrolysis consulting expert at Robert Weibold GmbH in Austria – were also impressed by the "all-star cast" gathered by Michelin, as well as by the "deep integration" of the research venture. During the event, they also actively discussed breakthrough technologies and projects to drive circular economy in the end-of-life tire recycling sector. Robert Weibold said this "astonishing" project combined "a lot of know-how" and offered the potential scope to deal with huge volumes of tires.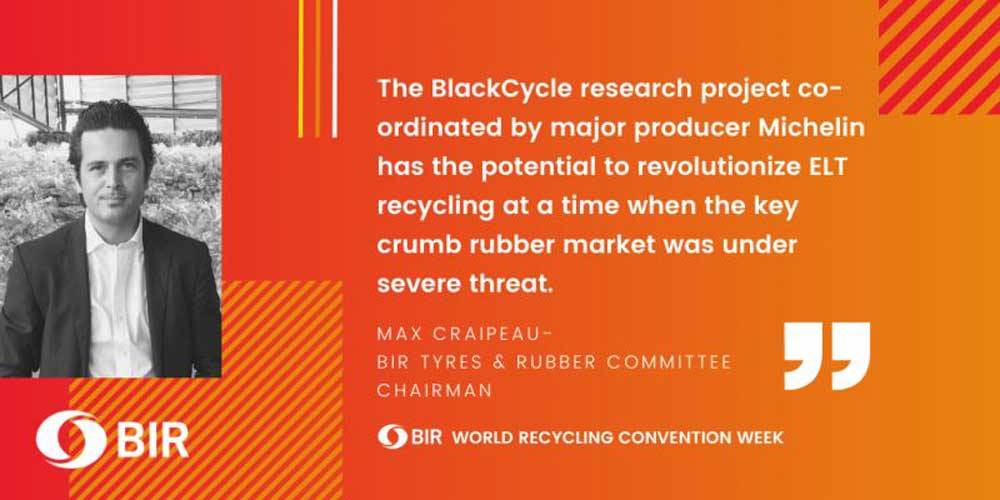 In its press release devoted to the online event, BIR pinpoints that the webinar participants acknowledged that the emergence of this potentially huge outlet for end-of-life tires was particularly well-timed given the regulatory storm clouds currently gathering over the main outlet for crumb rubber use as infill for sports pitches, a topic discussed in greater depth at the BIR Tires & Rubber Committee's eForum in June this year. Speaking at the webinar, Mr. Craipeau expressed the fear that a ban on infill "is on its way".
In a brief market analysis, Mr. Craipeau confirmed that the pandemic had dramatically reduced the number of vehicles on roads and therefore ELT arisings, forcing many recyclers to turn to their buffer stocks. On the demand side, COVID had curtailed the number of projects requiring crumb rubber, including the development of sports pitches.