Carlton Forest's pyrolysis plant shortlisted for UK's National Recycling Award
Carlton Forest Group's continuous pyrolysis plant for end-of-life tyres has been shortlisted in two categories at the prestigious National Recycling Awards hosted by Material Recycling World.
Carlton Forest Renewables, which will begin 24/7 operations imminently, say they have developed the unique technology over a period of years and has been shortlisted in the Team of the Year category and Innovation for equipment category.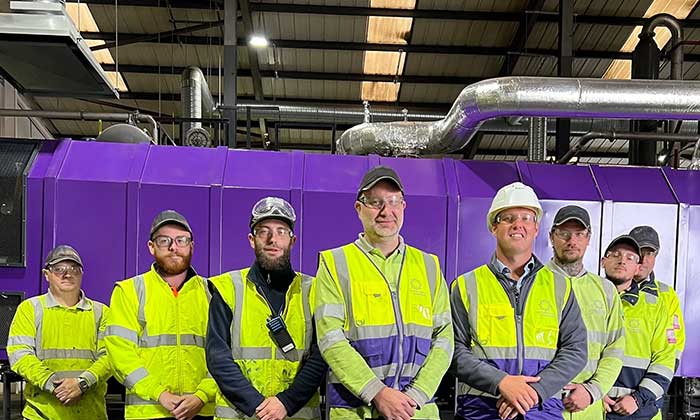 "We are so pleased to have been shortlisted at these awards and feel that it is a just reflection of the journey that we have been on, and the significance of the impact that our plant will have," said Mark Pepper, CEO, Carlton Forest Group. "Our technology, whilst unique to us, uses a tried and test method, pyrolysis, to recover, in this case, oil and char from the end-of-life tyres that can then be used in further value streams and manufacturing processes meaning the process is entirely circular."
The plant process c. 8,000 tonnes of end-of-life tyre feedstock per annum and can produce between 2.8 and 4.2m litres of eco-pyrolysis oil per annum. 1 tonne of rCB (Recovered Carbon Black) - refined from our carbon char - takes 7 fewer tonnes of CO2 to manufacture the same amount of vCB (virgin carbon black) highlighting the benefits it can bring.
Mark continued: "Interest in our plant has been incredibly high across the globe and we have several joint ventures opportunities that we are currently finalising. Our plant has the potential to make a huge difference in the way that end-of-life tyres are recovered and make a tangible difference to increasing the sustainability of alternative fuel production and select manufacturing processes."
Carlton Forest Group highlights the technology is fully patented, and its IP protected worldwide. The awards will take place on 6th December at Park Plaza Westminster Bridge.
Original press release by Carlton Forest.