Changes to end-of-life tire collection and tire recycling in France
Following the call for tender for renewed end-of-life tire collection and tire recycling launched in 2020 by Aliapur – French end-of-life tire collection and recycling authority, –20 of France's administrative districts will change tire collector for the period 2021-2024. Among them are: Ain, Allier, Ardennes, Corrèze, Doubs, Drôme, Gers, Jura, Loire, Lot, Manche, Marne, Haute-Marne, Morbihan, Rhône, Somme, Vendée, Yonne, Hauts-de-Seine and Val-D'Oise.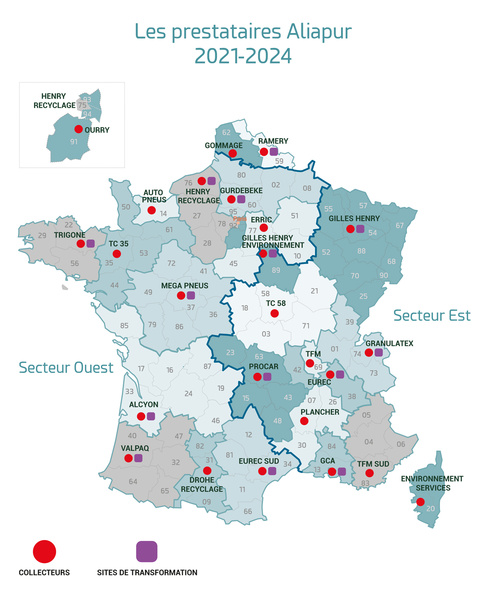 According to Aliapur, this change will be transparent and easy: automotive industry professionals will be automatically linked with their new tire collector via the extranet, Aliapur's database "Aliabase", the liaison tool that connects Aliapur to its subcontractors.
Similarly, for the garages and car centers that carry out automated end-of-life tire collection and that have their own containers, the old and new collectors will coordinate to carry out the replacement. These exchanges will take place during December when collections are made.
The eco-tax increases by 3.5%
On 19 November, 2020, Aliapur's Board of Directors voted for an overall increase of 3.5% of the eco-tax for 2021. The tax for a passenger vehicle tire will thus increase from €1.18 to €1.22, and the tax for a truck tire – from €8.60 € to €9. Together, these car and truck tires represent over 85% of the end-of-life tires collected in France, but there is also evolution in the other types of tires. Lately, they more and more include scooter tires, motorcycle tires, agricultural tires, airplane tires and end-of-life tires from civil engineering sector.

The tax increase is the direct result of the end-of-life tire collection and transformation call for tender. After a neutral period in 2016-2020, the cost of collection and shredding services is the subject of a controlled, gradual increase over the 4 coming years (2021–2024). Aliapur, however, pinpoints that the deferral of this increase in the eco-tax has been balanced by the increase in the value of recycled tires, particularly those used for energy recovery.
To learn more about tax rates for end-of-life tire collection and recycling in France, please click here.
Information by Aliapur.