ECO Green Equipment debuts ECO Extractor 63 for recycling mining tires
ECO Green Equipment – industrial tire recycling solutions provider and equipment manufacturer – unveils innovative ECO Extractor 63 capable of removing steel beads from 10 mining tires per hour.
The Utah-based tire recycling equipment manufacturer is continually exploring new ways to make the tire recycling process more efficient and environmentally friendly. Their products, which range from shredders and grinders to colorizers and control panels, employ the latest technology, as ECO Green reports. Now, ECO Green's team introduces their newest innovation: the ECO Extractor 63.
ECO Green Equipment was founded in 2001 to develop waste tire recycling equipment designed to maximize the amount of rubber recovered from each tire while minimizing the electricity required to do so. They pride themselves in designing machines that are not only effective but tough as well. By building high-quality machinery, they reduce maintenance costs that plague tire recyclers worldwide. These efforts help to make waste tire recycling more cost-effective and allow recyclers to expand their profit margins.
ECO Extractor 63 was built on this model. Operated using only a single person remote control and employing an innovative reverse hook design, the Extractor can remove the steel bead in massive 63-inch mining tires quickly and easily. Processing these tires faster than other existing methods, the Extractor increases the whole recycling line's speed and efficiency.
"We are excited to introduce our clients to the new ECO Extractor 63," said Brad Swenson, President of ECO Green Equipment. "We believe that the Extractor will revolutionize the way that large mining tires are recycled, making tire recycling both easier and more profitable. Processing more tires in less time translates to a win for the businesses and the environment."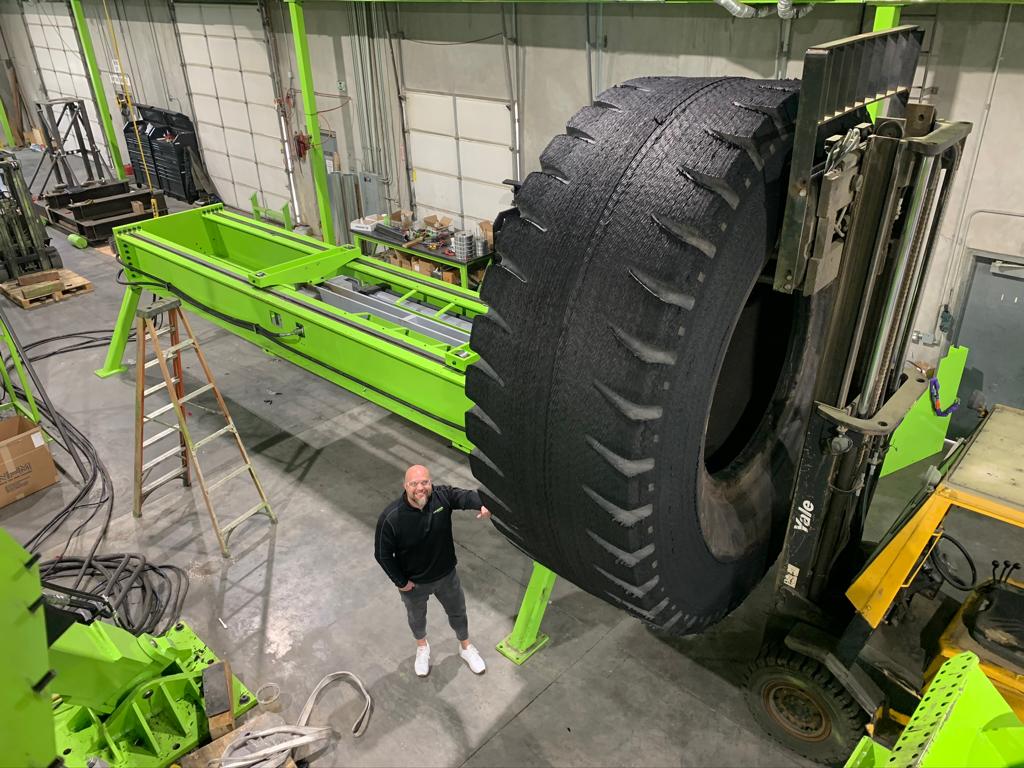 The new ECO Extractor 63 will work hand in hand with ECO Green Equipment's recently released ECO Razor. The Razor removes high-quality steel from mining tires before the remaining scrap rubber is sent to the shredders and grinders. Together they transform massive tires from an environmental hazard in a landfill into rubber mulch and crumb rubber for use in other projects, including athletic surfaces, playground surfaces, tire-derived fuel, and more.
Both the Extractor and the Razor work well together as part of an ECO Green Equipment-based recycling line. Alternatively, they can be added to the line in an existing rubber recycling plant, enabling the plant to process large tires more effectively and efficiently.
About ECO Green Equipment
ECO Green Equipment is one of the world's leaders in the tire recycling equipment design and manufacturing. The company is based in Utah, United States, and stands out among world's top-tier tire recycling equipment manufacturers by its innovative approach to equipment design, where efficiency and longevity brought to the whole new level.
The company's products include tire recycling machinery for any range of input and output – from OTR tire recycling equipment to ultra-high capacity shredders for truck and car tires to fine-milling machinery for the smallest-possible rubber powder output. The product range also includes various add-on modules for factory upgrade and "starter kits" for newcomers to tire recycling business.
To learn more about ECO Green Equipment and the way the manufacturer helps companies like Prime Inc. reduce landfill waste and make money while doing it, please navigate to https://ecogreenequipment.com.
Press release by ECO Green Equipment.