ECO Green helps trucking company efficiently recycle end-of-life tires
ECO Green Equipment – one of the world's leaders in end-of-life tire shredding equipment helps Missouri-based trucking company convert old truck tires into rubber mulch.
ECO Green's recent press release reports that Prime Inc., a Missouri-based trucking company that had been devoted to retreading their used tires, discovered that 20% of end-of-life tires couldn't be retreaded, and those tires — all 100,000 per year — were ending its lifecycle at landfills. With the help of ECO Green Equipment, they're improving the environment by creating environment-friendly valued-added products and making money while doing it.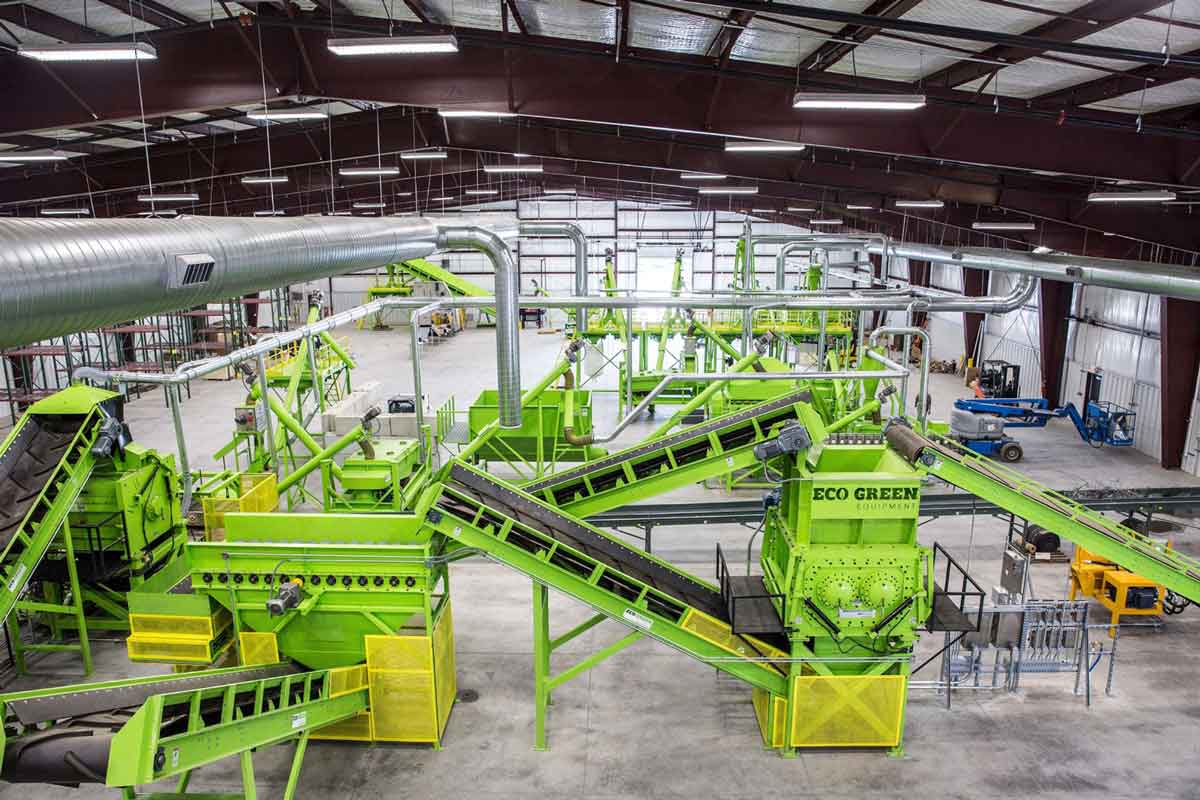 ECO Green Equipment is one of the global leaders in turnkey, cost-effective tire recycling systems and integrated tire shredding equipment. ECO Green says that its modular equipment is designed and engineered to deliver optimum production efficiencies for a broad spectrum of rubber aftermarkets, to include rubber mulch, crumb rubber, rubber powder, tire derived shreds (TDS), and wire-free chips.
Prime Inc. reached out to ECO Green for a solution to their tire waste problem. With the help of ECO Green's equipment – the manufacturer highlights – Prime now converts dual truck and super single tires into rubber mulch and other value added product that can be sold for use in landscaping, walking trails, athletic surfaces, and playground surfaces.
"This process greatly reduces our waste and gets us to a sustainable place where everyone needs to be," said Mike Jones of EcoShred, the division of Prime Inc. that is dedicated to recycling the company's tires. "We can now process 98% of the material that comes through."
As featured in a recent video created by Prime Inc., the company relies solely on ECO Green's shredders, grinders, and coloring equipment to produce their value added product.
The primary shredder creates a 2 to 6-inch rubber chip. The secondary grinder further reduces the tire chips to a 3/4 inch minus nugget and removes steel from the rubber. The ECO Green Colorizer Line is also used to paint the rubber with an option of 10 different custom colors.
ECO Green prides itself on equipment that allows companies to enter the rubber recycling market easily. "Our equipment is reliable and can work with existing systems. We focus on helping companies turn over the maximum amount of rubber with the minimal amount of energy, and we are constantly thinking of ways to improve," said Brad Swenson, ECO Green's managing partner. According to the equipment manufacturer, one of ECO Green's innovations includes the Krumbuster fine milling machine. This equipment encompasses a cutting-edge hydraulic motor and pump system to overcome traditional challenges of not being able to achieve both high volumes and fine powder rubber. The Krumbuster accomplishes both goals while decreasing horsepower usage by 20%.
Earlier this year, ECO Green introduced the new ECO Green Rubber Colorizer line. It is the industry's most efficient system with the highest coloring capacity in the market. The ECO Green Rubber Colorizer has the ability to color a wide range of material sizes from 10-20 mesh rubber granules to 1-inch chips and rubber buffings. This system is by far the most versatile and effective coloring line in the market.
About Eco Green Equipment Eco Green Equipment specializes in tire recycling. The company prides itself as the global leader in cost-effective turnkey tire recycling systems.
About ECO Green Equipment
ECO Green Equipment is one of the world's leaders in the tire recycling equipment design and manufacturing. The company is based in Utah, United States, and stands out among world's top-tier tire recycling equipment manufacturers by its innovative approach to equipment design, where efficiency and longevity brought to the whole new level.
The company's products include tire recycling machinery for any range of input and output – from OTR tire recycling equipment to ultra-high capacity shredders for truck and car tires to fine-milling machinery for the smallest-possible rubber powder output. The product range also includes various add-on modules for factory upgrade and "starter kits" for newcomers to tire recycling business.
To learn more about ECO Green Equipment and the way the manufacturer helps companies like Prime Inc. reduce landfill waste and make money while doing it, please navigate to https://ecogreenequipment.com.
Press release by ECO Green Equipment.