Highlights of the 8th Scrap Tire Recycling Conference in South Carolina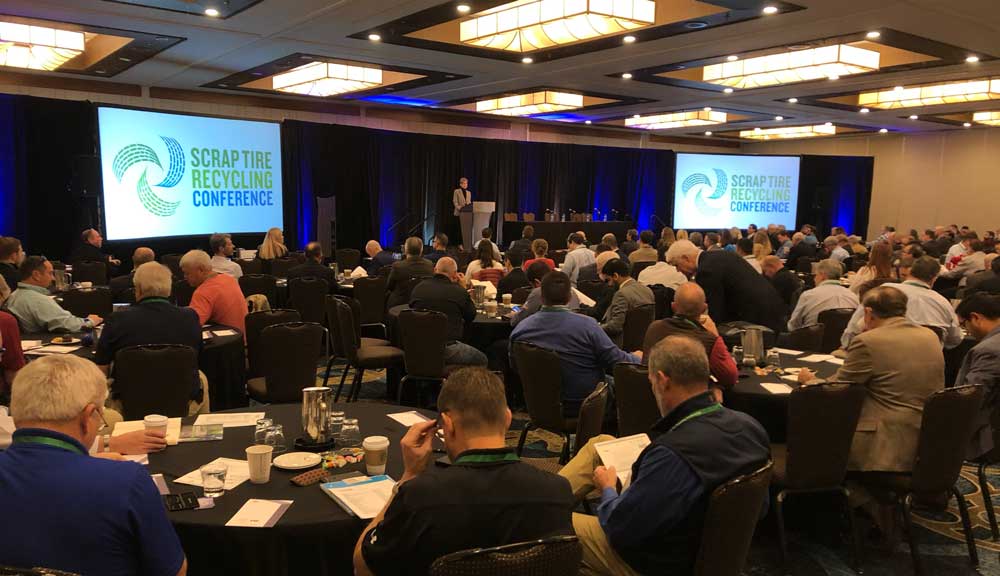 The well attended bi-annual Scrap Tire Recycling Conference was held at the Hyatt Regency in Greenville, South Carolina, and was organized by The Scrap Tire Research and Education Foundation (STREF). An a-propos location, since the state hosts the largest tire manufacturing industry and two major automobile assembly plants (BMW and Volvo). Attendance was higher than ever before, attesting to the fact that sustainable rubber manufacturing, tire recycling and pyrolysis are hot topics.
Sponsoring firms at the conference had small booths outside the conference hall. Introduction and moderating the speakers was organised professionally and the tight schedule was adhered to with precision.
Selection of the subjects covered and their speakers followed a strategy of giving the audience a good cross section of the issues and opportunities facing the tire recycling industry in the U.S. and globally. Angles included circular economy in general, regulatory, technological, as well as points of view from the tire manufacturers, equipment suppliers, tire recycling, pyrolysis operators and automobile manufacturers.
Highlights and Covered Subjects
While no overwhelmingly innovative or disruptive new developments were presented, the conference gave ample access to a plethora of useful data, statistics, insights, status-quo discussions, and future directions for a cross section of stakeholders in the tire recycling value chain.
The welcome was given by Anne Forristall Luke, co-host USTMA's President and CEO, who gave highlights form the annual sustainability report. The tire industry has the highest sustainability rate of any industry, 81% of scrap tires go to beneficial use, whereas, according to the U.S. Environmental Agency (EPA), only 51% of ferrous materials go to recycling, 33% of glass, 25% of plastic, and 65% of paper.
The morning of Day 1 was dedicated to the circular economy status from the perspective of the big players like automobile manufacturers, health and government regulatory organisations, a Big-5 research accounting firm, and the standards associations.
After S.C. Department of Health & Environmental Control (DHEC) laid out their visions for the industry, speakers from Volvo and BMW highlighted their views and shared interesting statistics in light of new challenges posed by a "circular economy" instead of just sustainability.
Accenture pinpointed the need for collaboration and partnering amongst members of the circular value chain and the regulatory authorities. In addition, he presented innovative approaches to merchandizing tires.
Lunch was entertained by an impassioned innovator who finds intelligent applications for repurposed materials. A keynote address was given by Damon Carson, Founder and President of Repurposed Materials who entertained with thought-provoking examples of product concepts and designs in many categories.
The afternoon of Day 1 started with presentations of major transportation, rubber modified asphalt, and civil engineering projects, providing great insights into the status of the industry. For example, speakers from Living Laboratory project shared findings of multi-year efforts of their and other similar projects, as well as their encouraging outcomes of the researches. The speakers named materials proved reliable and useful in development of rubberized asphalt after decade-long tests and trials.
This was followed by insights into emerging materials regulations and impact on scrap tire markets. Speakers were from the USTMA and Goodyear presenting the TIP. USTMA mentioned tightening regulations and its reviews of several substances under the Toxic Substances Control Act. World Business Council for Sustainable Development discussed a study conducted by Deloitte, which analysed pros and cons of the Free Market System in the USA.
The evening of Day 1 was concluded by exposés on micronised rubber and devulcanization technologies, as well as the status and plans of the largest three pyrolysis operators in the USA.
Lehigh Technologies, among other topics, shared interesting calculations for environmental and economic impact of their products – Micronized Rubber Powder (MRP). CEO of Tyromer spoke about his company's aim to produce devulcanized rubber not only acceptable to the tire industry, but also "green".
Among others, a subsidiary of a large tire manufacture shared their successes story in using recycled tire rubber in new tire manufacturing and highlighted virgin rubber replacement targets.
Day 2 started with a presentation on tire derived fuels and how they can be made more attractive. The material also contained an eye-opening tutorial on cement production techniques interesting to anyone who sells to that market.
Portland Cement Association (PCA) presented their Alternative Fuel Advocacy sharing statistics of TDF use in the U.S. Also, highly educational material was presented by the Environmental Director at LafargeHolcim, a large cement manufacturer operating worldwide.
This was followed by Ecore and Entech, who explained and educated on durable moulded goods from crumb rubber and extruded products, an important channel for higher value tire derived products.
Liberty Tire Recycling – long term veteran of the industry – lamented about the small size of the recycling operators in comparison to the tire manufacturers. In addition the company shared their skepticism to the capability of the U.S. recyclers to catch up with manufacturing rates. Other challenges highlighted by Liberty involved technical aspects of operation causing equipment damages and product recalls. The company urged tire manufacturing and tire recycling industries to unite to overcome challenges together.
CM Shredders had the same opinion about the challenges and supported Liberty's appeal for the industry to rally together. The equipment manufacturer described new products of the tire manufacturers and challenges some of them pose for tire recycling equipment.
Not to be overlooked by anyone thinking about longer term strategies for their enterprises are the presentations on future tire technologies and tire processing challenges which concluded the conference presentations. The inclusion of new features, materials, and processing techniques in tires in will have a significant impact on the entire recycling industry.
The conference concluded with speech given by Bill Hall, principal at Hall Partners LLC. He summarised how tire consumer demands for safety, reliability, noise, handling, etc., drives the shape, materials, chemistry and other innovations in tire design. He identified the challenges as well as the opportunities of this capital intensive industry.
If you are interested in obtaining a full report about the conference, please send your request to sales@weibold.com.