Weibold Academy: Impact of alternative fuels in cement industry on tire collection and recycling in developing countries
Today, tire recycling and cement industries are indeed intertwined. An abundance of scrap tires at specialized stockpiles, as well as well-organized tire collection systems and waste management plans, make it possible to (re)use precious rubber and create value out of waste.
Weibold helps companies build successful tire recycling and pyrolysis business, which make money helping protect the environment, and we explain how end-of-life tires are used to transform industries. While this article sheds light on tire-derived fuel in the cement industry, we encourage our readers to consider our free and paid resources in Weibold's web shop. If you are interested in very specific market studies, business plans, technology studies or other services tailored to your specific situation, please consider our consulting services.
Tire-derived fuel (TDF) proves to be an alternative to fossil fuels used in cement production, mainly due to high calorific value of tire rubber and its low price. However, TDF emerged as a popular alternative to fossil fuels in cement production for yet another important reason – environment. Tire-derived fuel helps lower CO2 emissions and serves as a cleaner alternative compared to fossil fuels. Added to this, using scrap tires in cement production helps clean up vast scrap tire stockpiles, which otherwise pose threat to environment and which are often unsuitable as feedstock for tire recycling plants due to its exposure to radiation, sand or other contamination.
Cement industries in well-developed economies have less organizational and logistical obstacles with using TDF, in terms of feedstock search. They are mainly challenged by strict environmental regulations which make cement producers run pilot projects to make sure TDF indeed helps emissions plunge rather than increase. In contrast, developing countries that are not yet encumbered by environment protection regulations experience severe difficulties in securing consistent supply of scrap tires. The reason is either the insufficient development or complete lack of waste management systems, namely scrap tire handling programs. As a result, subsidies are also lacking.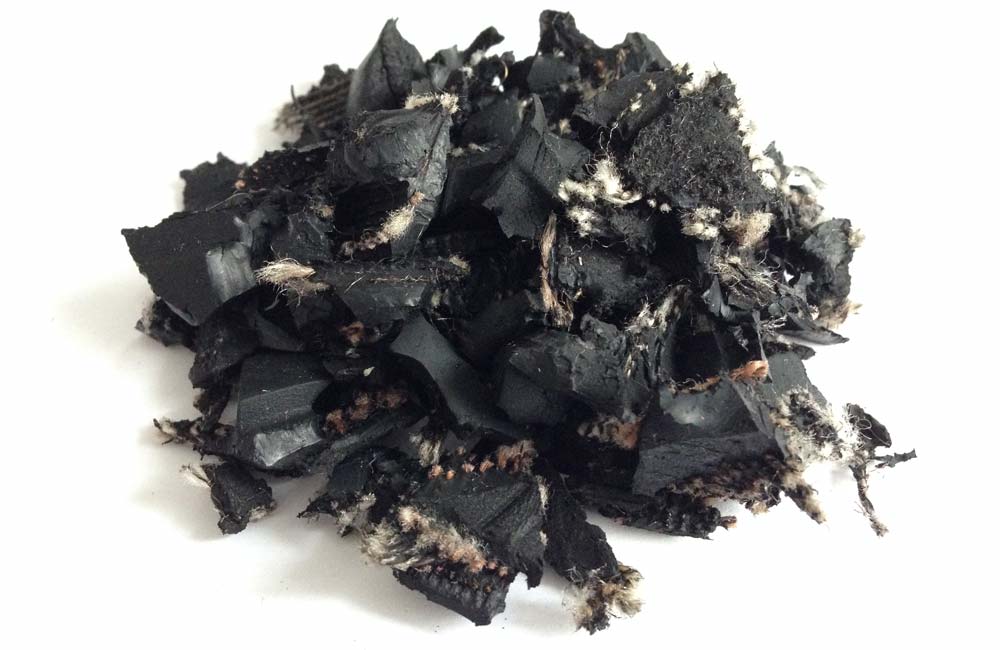 Non-existent infrastructure makes some cement producers in developing countries take initiative and launch tire collection programs on their owns. Some companies even purchase tire recycling equipment and some – outsource collection and recycling responsibilities to third parties.
As recent success stories show, the cement industry's using TDF proves conducive to creating proper scrap tire collection and recycling systems in developing countries. For instance, Egypt serves as a great example of cement industry's fast-paced transition towards TDF and developing of country-wide tire collection systems. Other examples include Ireland (Irish Cement's plant in Limerick) and Malaysia (CMS grinding plant in Mambong).
Egypt is the 10th largest cement-producing country in the world and also a huge cement consumer (53.9 Mt in 2015 according to Global Cement). The demand for cement is mainly driven by large national projects including roads, housing and other infrastructure. The bulk of cement plants in the country run on natural gas. However, to accommodate to recent constrictions in fossil fuel availability and rising prices, Egypt's cement industry had to turn to alternative fuels and increase its energy efficiency.
Complete and high-level waste management infrastructure is not yet fully available in Egypt, and the cement industry opted for development of waste management solutions where the use of refuse derived fuels (RDF) is a major focus. Among some 50 million metric tons of waste annually produced by Egypt tires add up to a significant portion and they are now used in cement production along with refuse-derived fuels. Using RDF also helps fulfil dual goal of reducing environmental impacts from fossil fuel use and creating much-needed local jobs.
The first refuse-derived fuel production facility in Egypt was opened in February 2014 by Suez Cement (Italcement). Since then, more plants were launched and they use fuels produced from municipal solid waste and scrap tires supplied by specialized collection and processing companies. Assiut Cement (Cemex) recently installed tire shredding machinery and it is going to further increase plant's alternative fuel substitution rates as well as calorific value of its energy mix. Several other cement plants in Egypt, namely Lafarge Holcim, Titan, National Cement, Arabian Cement Company, Beni Suef and others, have been working hard to develop supply chains and the necessary technical equipment for the production of RDF, its storage, dosing, feeding, etc. In 2016, numerous alternative fuel projects were launched in Egypt by cement producers.
Over the industry, the substitution rate grows and some companies like Lafarge Egypt, managed to achieve 25% substitution rate. Also, those companies keep signing major contracts to manage and operate existing RDF platforms in big cities.
Drawing on the previous example, one can see that the Egyptian cement industry already plays significant role in the development of crucial waste and scrap tire management systems in the country. Apart from helping environment, it creates new jobs and gives benefits to the country's economy. To foster emergence and further development of tire recycling in developing countries, cement producers should take part in creating scrap tire collection systems and, far more important, act as a lobbyist and work closely with the government.
Undoubtedly, governments in both developed and developing countries will keep playing a very significant role in creating legal framework and economic environment for successful development of waste management systems and infrastructure. In terms of legal frameworks, extended producer responsibility (EPR) systems or other scrap tire management plans should be established in developing countries. This would help initiate proper scrap tire collection and handling practices on the highest levels and may not even require subsidies after such programs are launched. In OECD countries, for instance, tire collection and recycling activities are eventually fully funded by consumers – small fees are levied on consumers when used tires are replaced. To design well-though-out regulations and launch such programs, cooperation between the major stakeholders (cement industry in this case) and governments is needed.
Weibold is the expert in tire recycling and pyrolysis consulting, who works with both new and established tire recycling and pyrolysis companies, waste management authorities and regulatory bodies since 1999 and helps them build successful business. Weibold has worked with over 300 companies worldwide and has a truly international portfolio. On behalf of authorities, Weibold has been investigating how successful scrap tire collection systems can be built; on behalf of cement companies Weibold conducted technology evaluation researches on shredding, steel separation and feeding equipment for TDF, as well as feedstock availability.
For more information about our reports, please visit our web shop or consider our consulting services.
Also, to learn how we can help you build successful tire recycling business or help you design regional tire collection system, write us at sales@weibold.com or call +43 1 997 10 50.