Netzsch' Weibold's webinar on jet milling and rCB refinement spawns high interest
Weibold's webinar platform is proving to be a great success! Observing which subjects draw the largest crowds allows us to gage trends in our industry.
Over 160 professionals from all over the world attended in Netzsch' product presentation on "Efficient Fine Grinding of Recovered Carbon Black with Fluidized Bed Jet Mills" this June! The high participation shows that the tire pyrolysis industry is concerned about the value of their products and may be moving towards investment into rCB refinement technology.
The overwhelmingly positive feedback from the session attests to the fact that operators are looking for ways to refine carbon fraction of their pyrolysis operation in order to reach broader markets and achieve higher prices.
About the webinar
The Webinar contained an overview of the state of the art of jet milling technology and told about advantages of optimized systems with air and steam as grinding media for recovered carbon black (rCB). Due to the parameters it becomes clear that new technologies were required on a dynamic market. Motivated out of this, NETZSCH developed two new systems. The economic E-JET® system and the superfine S-JET® system which is operating with overheated steam. The webinar showed that the S-JET® system is a great solution not only for super fine applications, but also for very efficient grinding. The advantages of the technology were introduced and the synergy with industries which already have a steam generation on sight was shown during the webinar.
Recording available (free of charge)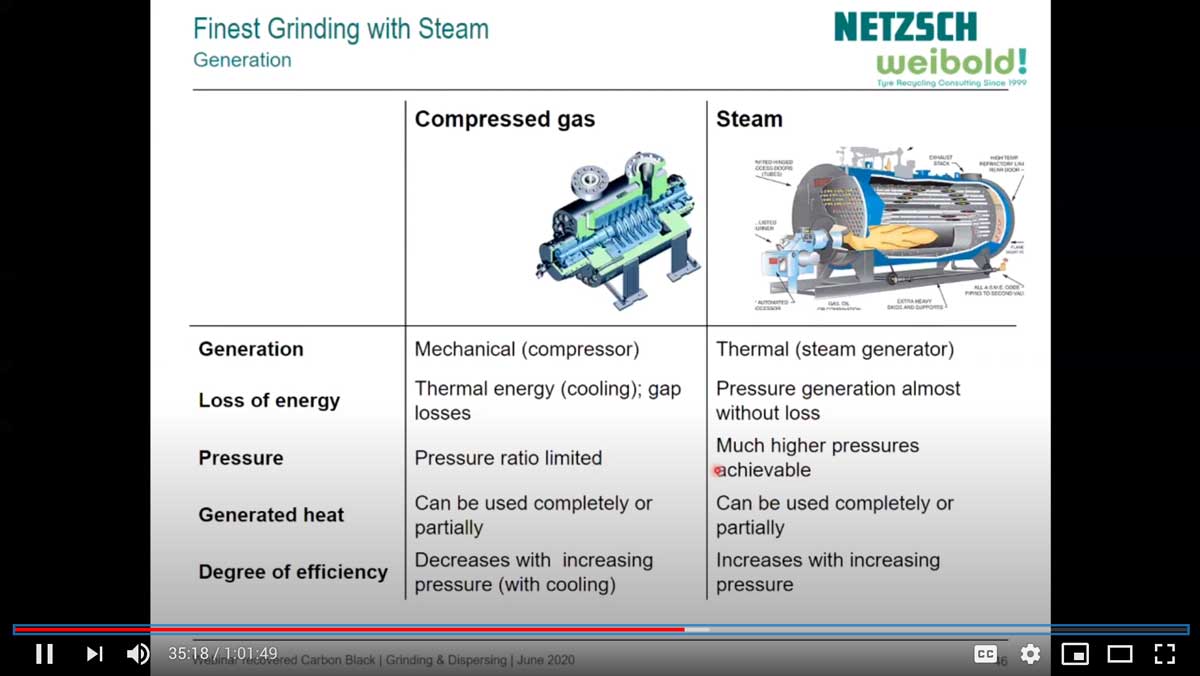 If you missed the chance to join our webinar "Efficient Fine Grinding of Recovered Carbon Black with Fluidized Bed Jet Mills", you can watch a recording of the webinar available on our website free of charge. To watch the recording or read more about the webinar's contents, please navigate to the webinar page.
Other webinars and recordings
Weibold's webinar platform features introductory courses, independent technology and market analysis, as well as presentations on product capabilities by technology developers. Recordings of previously held webinar sessions as well as industry reports can also be obtained in Weibold's Webshop here.