Nokian Tyres to use recycled and renewable materials by 2025
In its press release from January 2021, Nokian Tyres reported that the company isn't just focused on protecting drivers with its genuine tire manufacturing technology; Nokian also works relentlessly to help protect the world around us. One of the company's ambitious goals is to introduce a concept tire using only renewable and recycled materials by the year 2025.
Safety beyond the road – preserving the environment
Known for its high safety characteristics as well as for inventing the world's first winter tire in 1934, Nokian says that now more than ever, safety means more than the everyday journey on the road.
"We want the drivers who choose Nokian Tyres products to know that not only can they safeguard their families' journeys with their tire choice, but that their decision will also respect the world we all live in," Moisio says.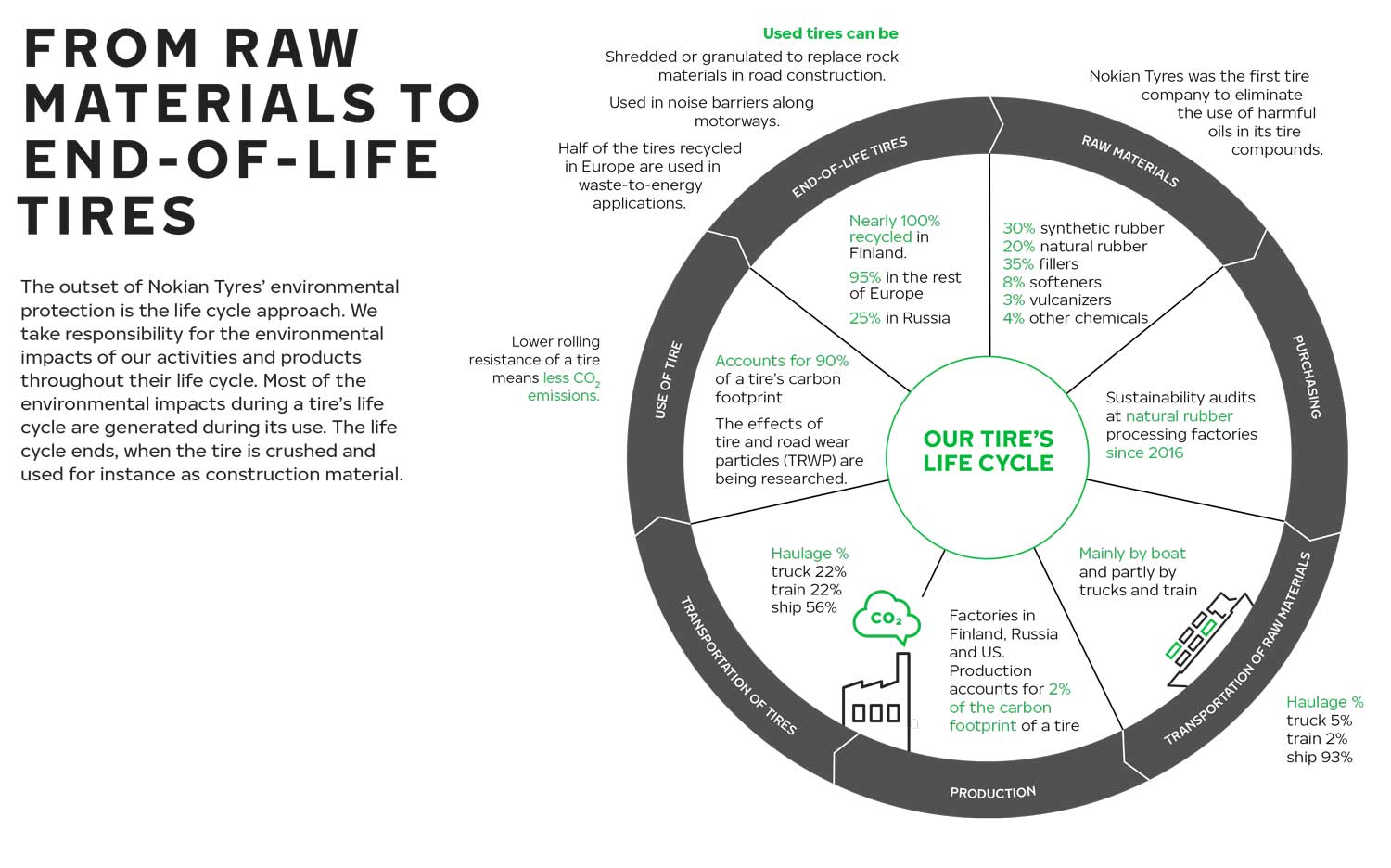 Making the world safer is evident in all Nokian Tyres' operations, from R&D to production. The company selects raw materials from sustainable sources, decreases emissions and waste from production and scrutinize our logistics and outlet channels. Also, Nokian develops tires to be as fuel-efficient as possible and made of durable, environmentally friendly materials. Pursuing a safer world also means that the company creates a safe environment for our employees, while building thriving communities around it.
The next ambitious goal: a concept tire from renewable and recycled materials by 2025
According to the company's press release, Nokian Tyres has designed tires from a sustainable point of view. It already uses bio-based materials such as canola oil in our products and actively research new eco-friendly materials as well the utilization of recycled materials. However, Nokian wants to make its tires as environmentally friendly as possible, and to meet this challenge it has set an ambitious goal: to introduce a concept tire that is made completely out of renewable and recycled materials by the year 2025.
"We have been an industry pioneer for almost 90 years. That is a lifetime of innovation, and many of those innovations still benefit drivers today. We believe that by designing this concept tire we will start a new foundation for future innovations for a better tomorrow," says Olli Seppälä, Nokian Tyres' Head of R&D.
Press release by Nokian Tyres.