Puma Bitumen Australia's crumb rubber modified asphalt technology wins the Innovation Award
The Tyre Stewardship Australia (TSA) has Congratulated Puma Bitumen Australia on winning the Innovation Award in the Australian Asphalt Pavement Association QLD 2020 Industry awards. TSA lauded Puma Bitumen for its great product, strong leadership and innovative work and mentioned it is funding with Puma to upgrade plant and facilities around Australia to supply increased volumes and enhanced crumb rubber products to road consumers nationally.
Puma Bitumen Australia's team recently won the Innovation award in the AAPA Queensland 2020 Industry awards. The invention of OLEXOCRUMB®, which incorporates recycled tyre rubber in a high performance bituminous road binder received the honour from the judging panel.
Dr. Erik Denneman, Puma Bitumen Global Technical Manager, explained that, "The inspiration to develop OLEXOCRUMB® came from the challenge society and governments are facing in finding a beneficial use of waste tyres". In Australia alone, the equivalent of 56 million passenger tyres reach their end-of-life each year and represent a major waste challenge. Every tonne of OLEXOCRUMB® binder repurposes the equivalent of 15 recycled passenger car tyres. The strength of the OLEXOCRUMB® innovation lies in the fact that the binder complies with conventional polymer modified binder specifications. It therefore is a direct substitute for existing binder grades, Puma Bitumen explains.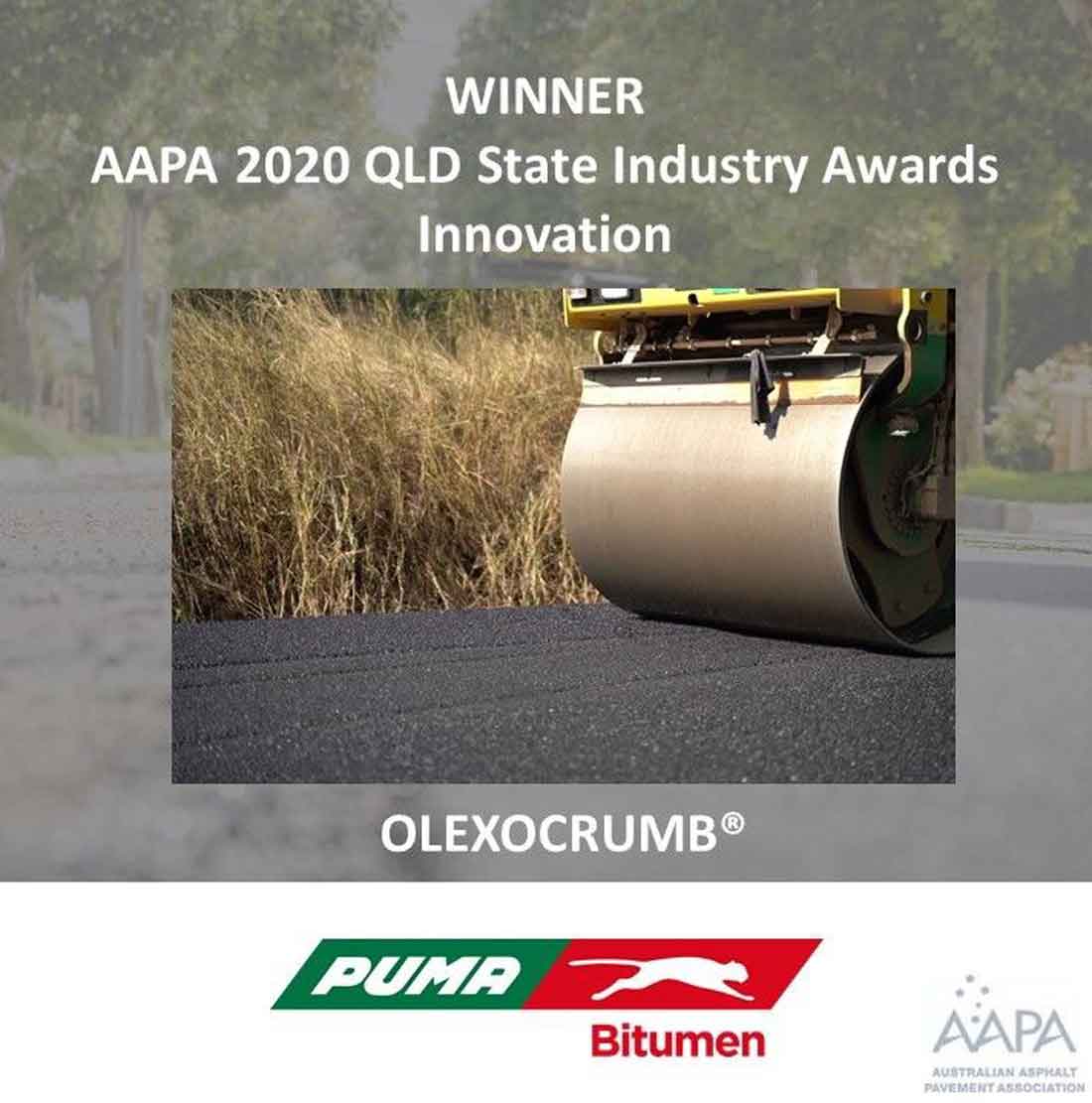 In its recent announcement in LinkedIn, the company says big thank you to the dedicated team in Australia who have passionately developed a compelling, credible and a high performance hybrid binder that features a range of sustainable and environmental benefits for the pavement industry.
To read more about recent breakthroughs and success stories of Puma Bitumen, please navigate to the company's website.