Salvadori partners with Rubberosion and the State of Colorado to help recycle end-of-life tires
This May, Salvadori – on of the leading technology providers in the field of tire recycling – revealed about its new partnership with Rubberosion and the State of Colorado in the United States, which helps tackle the end-of-life tire recycling problem in Colorado. Below, we are citing Salvadori's press release.
Rubberosion Inc. is referred to as one of the leading providers of value-added end use rubber products for stormwater and erosion control in the United States. Its business began with a vision: find a solution to Colorado's end-of-life tire problem, which was large tire dumps, one which irrupted in a major tire fire, turning what was considered as an environmental problem into an environmental solution. Over the years, its distribution network grew together with the market demand for their products. To meet the increased production volumes, they started looking for solutions that could help them improve their manufacturing process.
Based on Rubberosion requirements, Salvadori developed a fully automated molding unit that positioned the company at the forefront of quality and innovation in recycled rubber products.
"Our operators now have user-friendly software and interface, assuring product quality and consistency. Together we have built a business relationship above just machinery and parts, we have built a relationship on innovation and green solutions" said Rick Welle, President of Rubberosion.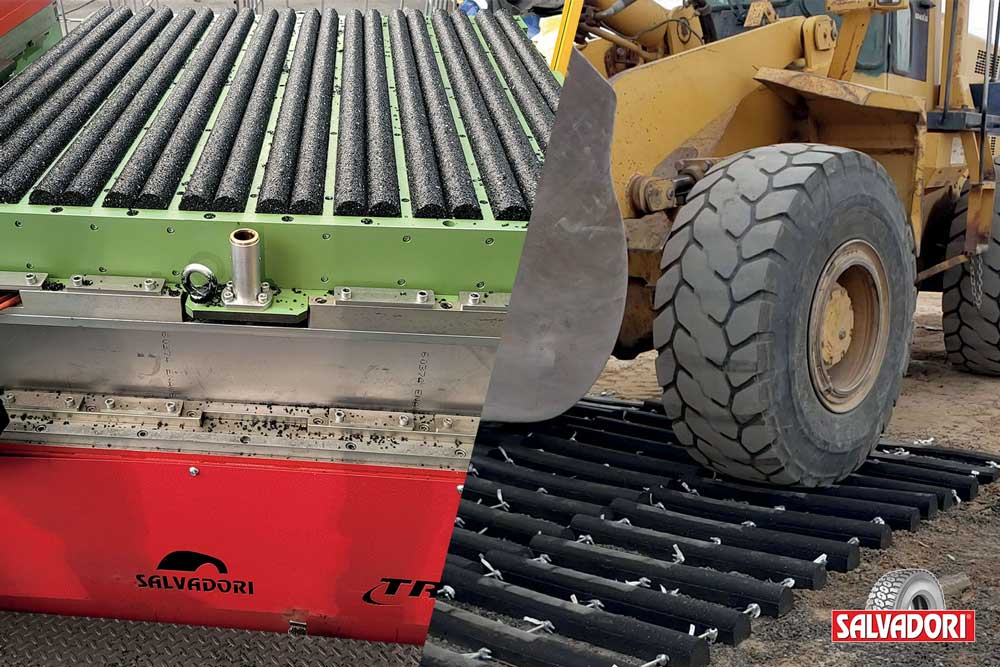 Speaking about its equipment deployed by Salvadori to help tackle end-of-life tire issue in Colorado, the company highlights that its press is designed with high flexibility in mind, thanks to the software which stores creative formulas and allows for production in an automatic cycle. Compatible with the entire range of Salvadori's molds. The dosing precision guarantees, according to Salvadori, extremely high-quality levels with a dramatic increase in productivity.
How Salvadori helps improve end-of-life tire recycling in Colorado
Rubberosin sells their products through a channel of more than 30 distributors, whose demand has been significantly increasing in recent years. The manufacturing process has been reliant on an inefficient system of compression molding, which involved manually feeding each mold with rubber granule. This manual operation led to extremely high labor costs, lower throughput and extensive employee overtime in order to deliver production volume equal to market demand, Salvadori says.
Pressure to meet production volumes also led to quality issues when behaviors such as inconsistent cure times, erratic amounts of raw material fill and overall operator error compromised quality and production volumes. Additionally, the mold press lacked a properly integrated safety system and any electronic controls to monitor production standards.
Rubberosion is located in Colorado – a state which relies on tourism, mostly thanks to its outdoor sports and natural beauty to drive the State's economy. Last year alone, 82.4 million visitors spent a total of $19.7 billion, generating $1.2 billion in State and Local taxes. In July 2020, a sudden fire burned more than 3,000,000 tires, endangering the region's environment as well as public health and safety. This tire fire also threated Rubberosion's production plant as it is in close proximity to this tire dump.
Rubberosion sought a strategic partner to tackle their production challenges. Concurrently, Rubberosion was working in conjunction with the State of Colorado, to locate a firm with the experience and expertise to eliminate this massive end of life tire dump and corresponding negative environmental impact.
Salvadori's North American Business Development Manager Genti Bardhi had been in communication with the State and an exploratory meeting between the parties was conducted. Team Salvadori utilized their 4D solution development process and during the discovery session identified numerous areas of improvement for equipment and operational functionality.
"Salvadori is the only company in North America that offers a close loop solution to the tire recycling, from deconstructing the tire to creating life safe products from rubber artifacts. Our collaboration with the State of Colorado and Rubberosion to find a solution for the abandoned tires, was very successful in crating the best possible product for the market with the highest technological standards" said Bardhi.
Salvadori envisioned several overall improvements focused upon Rubberosion operational and functional objectives. Salvadori proposed a fully automated molding unit which precisely dispensed and monitored raw rubber granule utilizing an electronic PLC system, thereby ensuring QA standards where being achieved.
Likewise, Salvadori engineered OHSA compliant operator safety features while increasing operator ease of use which reduced operator fatigue while increasing overall productivity.
According to Salvadori, Rubberosion benefited from enhanced technology which enabled their transition to automated and safe operation, as well as delivering enhanced functionality. The design also supplies a more advanced and efficient molding method which led to cost savings, faster mold changeover times, improved productivity, and improved product quality. The new equipment and design is especially important during Covid-19 workplace challenges.
Specific enhancements by Salvadori
According to the company, special improvements introduced by Salvarodi included:
Compression molding systems are up to 3 times faster than the company's previous method.
Changeover time for weekly production and processing decreased by 112 days.
Increased savings from reduced maintenance downtime.
Higher safety standards according to the highest OSHA and UL standards in USA.
Increased savings on product storage and associated inventory management in the plant.
Improved productivity while decreasing the number of machine-operators required.
Guaranteed production for 3 shifts, 7 days a week, thanks to automated workflow, which avoided production losses due to COVID-19 staffing issues.
Interchangeable tools/molds
Industry leading customer support and remote-control system monitoring.
Salvadori thriving despite COVID-19
A molding automated unit is a highly complex piece of equipment, that must be precisely positioned and tested before the system starts fully operating. Salvadori says its installation experts across all the required disciplines have always performed the installations in person to ensure that every unit meets and exceeds Salvadori's customer expectations worldwide.
With the Covid-19 pandemic at its peak, reaching Rubberosion's installation site in Colorado, U.S.A. from Salvadori's manufacturing base in Italy was not possible due to travel restrictions. Salvadori had to collaborate with Rubberosion to find a solution.
A multifunctional task force of Salvadori's engineers, service technicians and assembly line operators were quickly put in place and started working together with Rubberosion technicians to install the machinery remotely. This was the first time that Salvadori had to develop a remote installation procedure, and the moulding unit was already in U.S.A. leaving no time for advanced perpetration with Salvadori engineers for the remote installation process.
In a matter of days, a detailed procedure was shared with Rubberosion and the installation was successfully completed, with the virtual presence of Salvadori technicians, with both teams working in perfect alignment during Rubberosion's normal business hours. "I've been very impressed with Salvadori's first class customer service and technical support. The upgrade to the Salvadori molding press allowed us to increase our current production rates by 3 times, while improving our operator's safety, and product quality" said Rick Welle President of Rubberosion.
Press release by Salvadori.