Weibold Academy: Tire pyrolysis fuel and emission standard developments
Month by month, our Weibold Academy series touches different topics from the world of tire recycling and highlights different sides of running this business. If you have missed our previous articles, you can find links in the end of this post.
Tire pyrolysis is a complex capital-intensive business which requires much know-how and which is rather challenging to successfully run today. However, we are convinced tire pyrolysis has a bright future ahead.
First, let's consider reasons which make this business challenging. In the OECD countries, tire pyrolysis is hampered mainly by national regulations. For instance, in Germany, fuels obtained from recycled rubber are banned for use in vehicular engines. Nevertheless, the regulations permit using pyrolytic fuels in stationary engines. The latter requires thorough purification of such fuels to use them as heating oil or as an alternative to diesel to eventually produce electricity. Vehicular engines, in turn, require much more complex fuels which should be in line not only with the latest environment standards, but also with standards created by automotive and petrochemical industries. Despite the latter being a very interesting topic which deserves thorough consideration, this article will focus on environmental regulations, as they so far remain the main and foremost obstacle for tire pyrolysis fuels.
Today, the need to preserve environment, lower emissions and fight pollution already make the use of tire pyrolysis fuels hard in the OECD countries, but this trend very fast goes beyond developed countries and becomes an imperative in India, Asia and Africa. Among many chemical parameters, what matters in fuels is the sulphur content which is traditionally rather high in tire pyrolysis diesel. While limits in sulphur content are negligible in developing countries today, things are expected to change dramatically already in 2020. The image below shows maximum sulphur content in on-road diesel in 2020.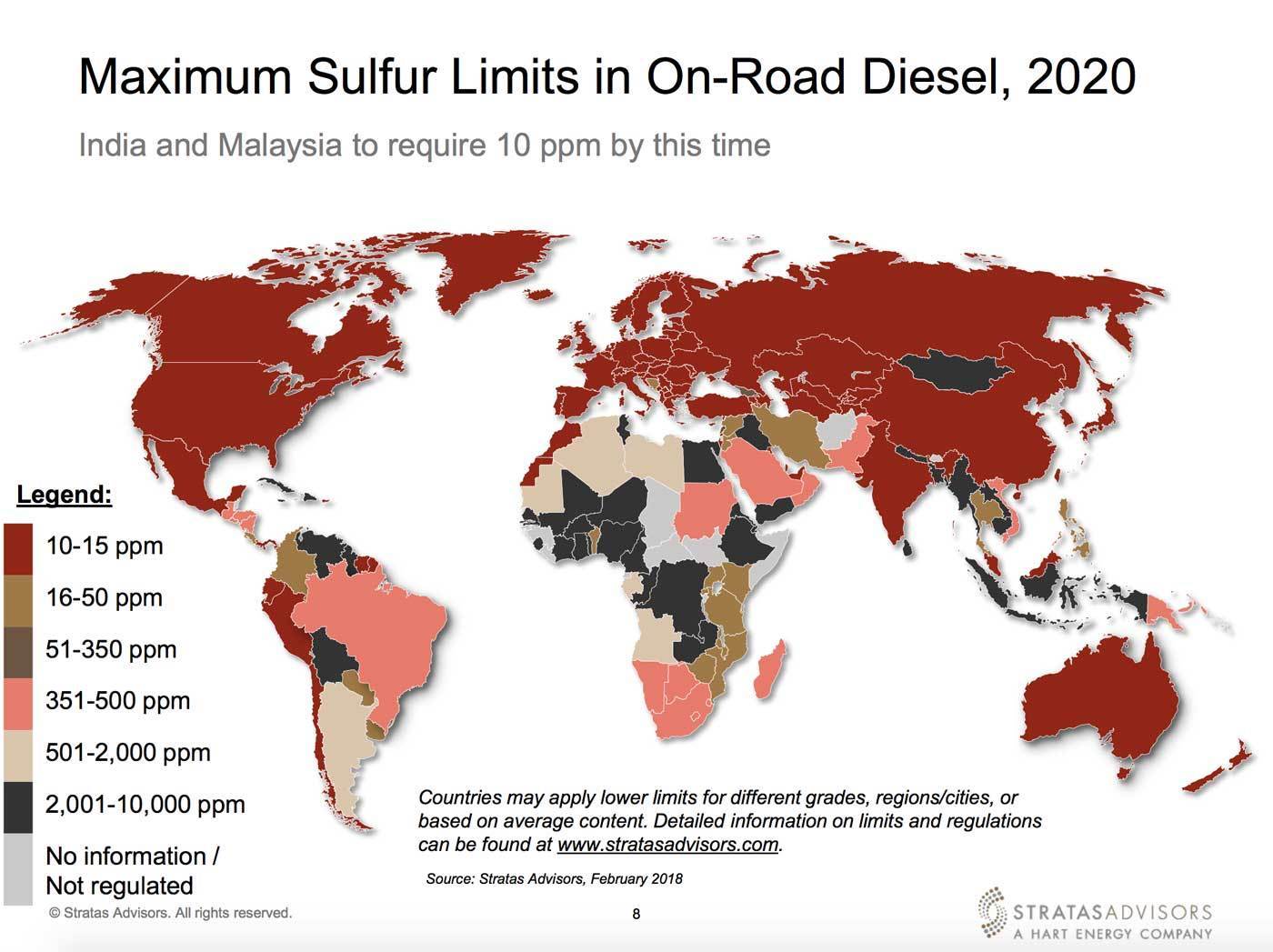 In this article, we partly cite a report by Stratas Advisiors which can be found on our website. Comparing sulphur limits in 2018 and 2020, we see that developing countries keep imposing stricter regulations regarding sulphur content both in gasoline and on-road diesel. Interestingly, the fastest-developing region in terms of the standards is Africa.
In Southern Africa region, Mozambique implemented 50 ppm limit for gasoline and diesel on October 1, 2017. Also, Zimbabwe implemented 50 ppm sulphur limit for diesel from Januar 1, 2018 and progressively phased out 500 ppm until May 1, 2018.
In Western Africa region, Ghana implemented 50 ppm for imported fuel; Benin drafted new specifications for 50 ppm sulphur diesel and 150 ppm sulphur for gasoline, which are awaiting government approval. Cote d'Ivoire, Nigeria and Togo have yet to propose new specifications to meet the Abuja conference agreement.
This means that tire pyrolysis fuel needs to undergo additional treatment to be used on the markets of both developing and developed economies. The good news is that research laboratories and tire pyrolysis equipment suppliers, as well as petrochemical industry players in Europe and the United States actively work on upgrading the fuel to current environment and industry standards.
One of the current leaders in this field today is the European research project RISE. It involves the Swedish tire pyrolysis equipment manufacturer Enviro and Swedish corporate group Ragn-Sells engaged in waste management, environmental services and recycling. The RISE reports:
"We're currently at a stage where we've demonstrated that fuel can be produced from tyres and that pyrolysis oil is a feasible way for the petrochemical industries to reduce their consumption of fossil oil."
Scandinavian Enviro Systems asserts that the project set out to evaluate three different approaches for upgrading pyrolysis oil to higher grade products, with a special focus on co-upgrading to fuels together with fossil raw materials in refinery processes. "For the project, we characterised and upgraded pyrolysis oil through various refinery technologies. At RISE Energy Technology Centre's laboratory in Piteå, we conducted pilot-scale experiments where we compared upgrading pure fossil oil to oil with 20 per cent pyrolysis oil. The findings showed that that there were no significant differences between the two, and that pyrolysis oil is excellently suited to fuels," says Sandström.
The organization aims to go further and verify the findings as well as to prepare to commercialise the concept with pyrolysis oil in vehicular fuel.
The RISE is looking for a refinery that's willing to accept pyrolysis oil as a raw material for production and thereby start reducing its consumption of fossil oil. According to Linda Sandström, the RISE has shown that the concept can be commercialised and that it's profitable. The stakeholders of RISE hope that the industry will be willing to participate and develop the concept further.
As a tire pyrolysis equipment manufacturer, Enviro hopes that pyrolysis oil can be priced on the basis of its value to the petrochemical industry as a fuel as well as from the perspective of sustainability. The stakeholders claim that the financial potential of tire pyrolysis oil is substantial. The RISE is looking forward to continuing the project and exploring the environmental and commercial benefits further.
Based on our research network, extensive market studies and collaboration with petrochemical industry experts, we support the industry's optimistic views on tire pyrolysis fuels and expect major innovations in the coming decade.
Consulting services by Weibold
Weibold carries out comprehensive Market Studies and, thanks to its collaboration with research institutions and petrochemical industry experts, counsels businesses in the field of tire pyrolysis, including upgrading and modifying fuel and choosing right production technology.
Among others, Weibold's services include:
Contact us at sales@weibold.com to learn how you can benefit from our services!