UK's largest tire collector and recycler Murfitts acquired by ITOCHU Corporation
ITOCHU Corporation, headquartered in Minato-ku, Tokyo, recently announced that it had agreed the acquisition of Murfitts Group Ltd, a tire recycling company headquartered in Lakenheath, United Kingdom.
The acquisition has been made through the ITOCHU subsidiary European Tyre Enterprise Limited (ETEL), a a tire wholesaler and retailer based in the U.K. In the United Kingdom, ETEL operates an extensive network of retail centers, under the well-known Kwik Fit brand, and nationwide wholesale tire distribution through Stapleton's Tyre Services.
Murfitts collects and processes the equivalent of around 20 million post-consumer car tires in the U.K. each year. Using the recovered material it manufactures a range of recycled products such as rubber crumb products for sports surfaces, pathways, children's playgrounds, carpet underlay, modified asphalt and many other industrial applications. Its products are exported to markets across the globe. ETEL's UK-wide tire distribution infrastructure will help Murfitts to further improve its tire collection and processing offering to customers.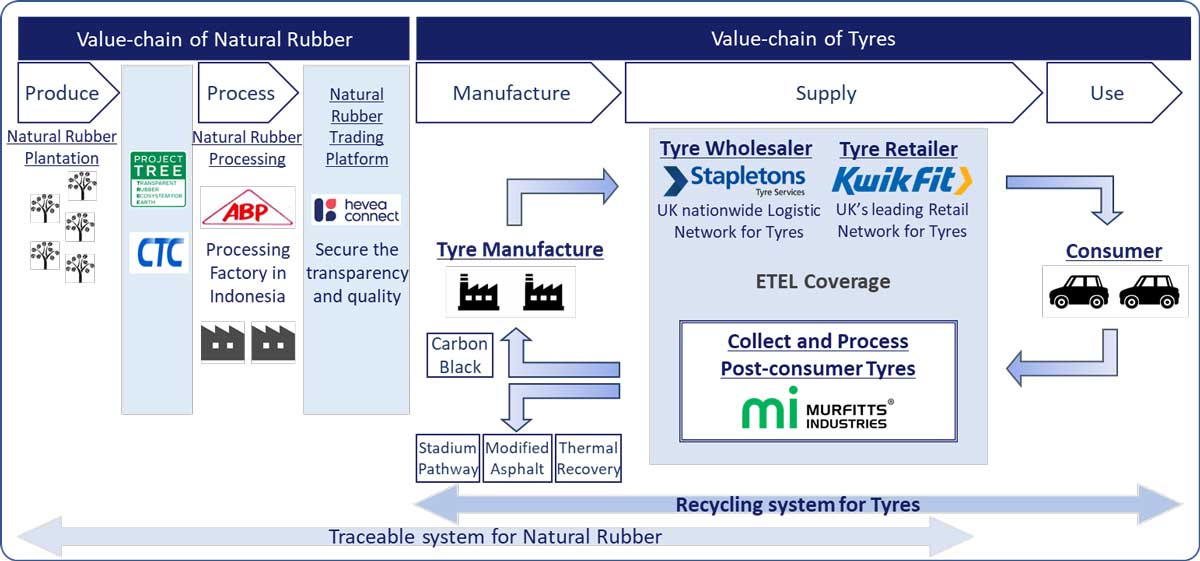 Murfitts has been developing and commercializing a proprietary pyrolysis technology, using a thermochemical process to decompose the tire feedstock at high temperatures in a vacuum in order to recover various high-value materials such as carbon black and recycled fuel oil. This technology will help promote sustainability initiatives in the tire industry by replacing one of the major raw materials of tires, carbon black, with a recycled product.
ITOCHU's Brand-new Deal 2023, its medium-term management plan, includes "business transformation through the incorporation of consumer needs into products" and "continued contribution to/efforts to achieve the SDGs" in its Basic Policies. ITOCHU recently announced Project TREE, a program that focuses on the sustainable supply chain of natural rubber, another key raw material of tires. Together with the acquisition of Murfitts through ETEL, ITOCHU aims to contribute not only to the reduction of waste but also to making the entire tire value chain more sustainable.
Original press release by ITOCHU Corporation.