Meet Weibold's pyrolysis expert at Autopromotec's Future of Tire Retreading and Recycling conference in Bologna on May 26!
Autopromotec is an international exhibition dedicated to automotive equipment and the aftermarket held in Bologna from May 25 to May 28, 2022, where more than 1,200 companies will participate. According to Autopromotec, the quarter of all participants are international visitors.
As part of this international exhibition, the conference on "The future of tire retreading and recycling" will take place on May 26th.
Weibold will be represented by pyrolysis expert Claus Lamer, who will talk about the state of the art of chemical recycling (pyrolysis) of end-of-life tires, current trends, and opportunities.
If you would like to meet with Claus Lamer, discuss pyrolysis technologies, business opportunities or Weibold's consulting services and products, please send your inquiry at sales@weibold.com.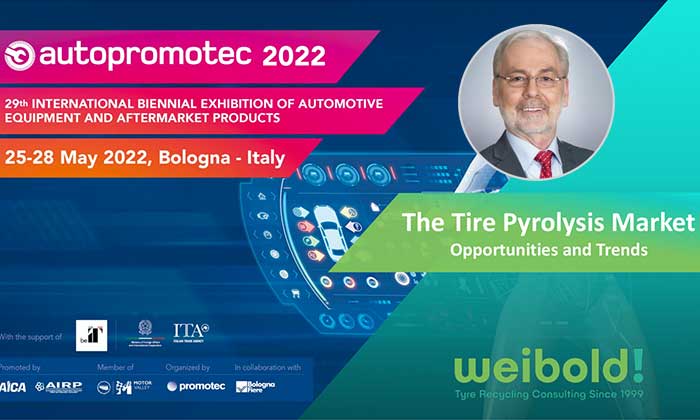 In his speech, Claus Lamer will touch upon the following topics:
Chemical recycling technologies are maturing to mainstream industrial scale.
Standards are being developed and the legal frameworks are gradually adjusted.
Big industrial players (tire manufacturers and chemical industry) are getting in the game.
Large quantities of pyrolysis products in constant quality are highly demanded by the market.
Environmental certificates become increasingly important
Growing demand for recovered carbon black and pyrolysis oil
And much more
The conference will be followed by the Recircle Awards Ceremony. The globally-facing awards event recognizes sustainable innovation, production processes, management and services within the tire retreading and recycling industries.