Over 100 new jobs will be created at tire pyrolysis plant in Sunderland, UK
Sunderland Echo – news publishing in Sunderland, UK – reports that the Norwegian firm Wastefront is planning to create up to 130 new jobs by the creation of a new waste tire recycling plant. The company hopes to begin building the premises at the Port of Sunderland early next year with work expected to take around 18 months.
Subject to planning permission, around 100 construction jobs would be created with up to 30 full-time roles required once the plant opens.
Wastefront aims to convert locally-sourced end-of-life tires, known as ELTs, into useful commodities, including liquid hydrocarbons and carbon black, which can then be reutilized in processes such as alternative fuel or ground rubber manufacturing.
Praising "Sunderland's history as an industrial city", Wastefront co-founder and director Christian A Hvamstad said: "The construction of our first ever plant at Port of Sunderland marks a huge step in Wastefront's efforts to combat the global issue of ELT waste.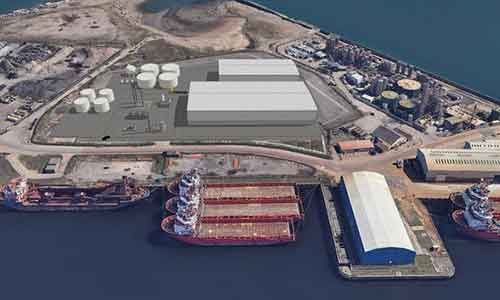 "Our ambition is to create a new circular economy for dealing with waste issues and a crucial element of sustainable waste handling is to be able to do so locally.
"Wastefront's first plant in Sunderland will represent a valuable contribution to a cleaner future by dealing with a specific waste problem, where end-of-life tires no longer end up in landfills in overseas."
Port of Sunderland director Matthew Hunt said: "We are delighted that Wastefront has chosen to construct its first ever plant at Port of Sunderland and we are looking forward to working with Christian and the team to bring their vision to life.
"Port of Sunderland is currently undergoing a major transformation, with over £8 million being pumped into improving its roads and infrastructure, and the decision by Wastefront to invest here shows just how much confidence this is breeding among our stakeholders and the wider market."
The port is owned by Sunderland City Council and Councillor Graeme Miller, the council's leader and port board chairman, said: "This latest announcement demonstrates just how attractive a proposition our port is becoming and it's great to have attracted this Scandinavian firm.
"We know that Nordic countries are among the leaders in the world when it comes to renewables and green technology, so it's fantastic to attract foreign investment that will bring that to Sunderland and the UK."
Article: courtesy Sunderland Echo.